Tired of Replacing Your Water Softener?
Before you go out and purchase a "bargain" or "expensive" water softener, there are a few things we feel you would benefit from knowing. There are things the water treatment industry, as a whole, doesn't want you to know! Think about it, there's a reason for that! Is your water softener not working properly? Have you purchased two or three or more softeners in your lifetime? Are you somewhat confused with all of the misinformation and endless "options" that are available?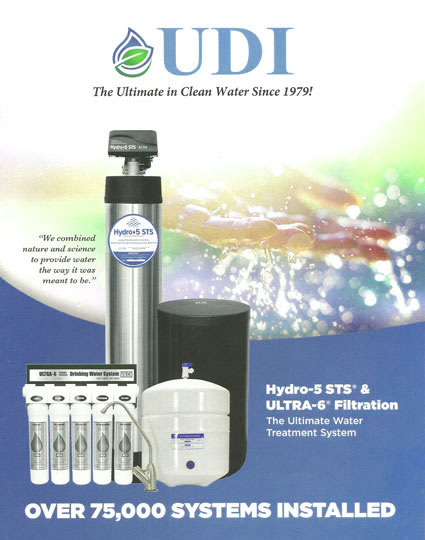 Traditional softeners are "Made to Fail", plus, they only do one thing, soften your water (hopefully)! Planned obsolescence is what most companies depend on for future business! They make their equipment out of plastic, guarantee them for 1 to 5 years and charge two, three, four and sometimes up to ten thousand dollars for their systems. All you end up with is a failed system sitting out by the street that costs thousands of dollars to replace. Here at HOWS Inc. we want to help you navigate the ins and outs of water treatment. We do this because we are sure, after over 43 years of doing things right and listening to our customers, we have found a better way for you to invest your hard-earned money. We also feel that if we answer your questions honestly and can prove our claims through verifiable customers then we have a better shot at earning your business!
The patented "Hydro 5" water treatment system is guaranteed for life and is not just a softener! IT IS a "water conditioner" that does the whole job. This entire water treatment system is also completely portable. If you move your system moves with you making it a once in a lifetime investment! Not only will this full water treatment and softening system soften your water, but it refines, clarifies, and filters your water as well. It pays for itself very quickly by saving the average family of four between $120.00 and $150.00 each month and we can prove it! Stop replacing your outdated water softener and let us come test your water today. Once able to see for themselves just how valuable "conditioned" water is most people will choose not to continue to waste their money and will instead chose to INVEST IT. Our water treatment systems have been perfected for over 56 years. The best part of any of our claims is that you don't have to take our word for it! Referrals make up a large part of our business and we treat each customer with the care and respect that they deserve! With over 70 thousand units installed locally we have chosen positive word of mouth as our main advertising focus. This reduces our costs and allows us to offer the best system made at a very competitive price.
Hard water can have far-reaching effects, especially when it's used throughout your entire home. Just like its name says, it's literally HARD on everything. Hair and skin can become dry and damaged. Kitchen utensils and flatware look dirty and spotty. Plumbing takes a beating and frequently needs costly repairs. Hard water ruins our appliances and fixtures wasting even more money and household cleaning is an ongoing nightmare. Hard water definitely leaves its mark. So……………… what's the solution? A complete water treatment system from
Home Owners Water Solutions, Inc.!
No water softener can do all that the Hydro 5® Does!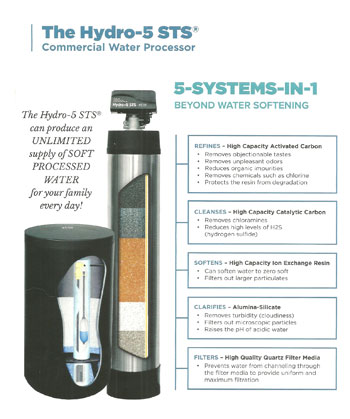 The HYDRO 5® provides more value because it not only softens; it "conditions" water in a unique patented five part system.
The Five-Part System Includes:

Quartz bed filter for flow rate


Clarifying resin to remove trash & debris


Ionic replacement softening resin


Activated Carbon resin


Catalytic Carbon resin
System Benefits
The "Hydro 5®" comes with a "TRUE" lifetime guarantee! Concerned about cost? Don't be! This system saves so much on maintenance, chemical consumption, bottled water and repairs that it quickly pays for itself!
Additional Benefits of a Complete System Include:

Hair and skin feel softer, cleaner, and fresher.


Reduces your maintenance costs by 75-90%..


Soaps lather better, showers, baths, and toilets are no longer a nightmare to clean.


Less chemical consumption throughout your home making it more environmentally friendly.


Appliances and pipes last longer and need less repairs.


Entire system is Completely Portable! Take it with you wherever you live!


Never have to buy drinking and cooking water again!
We proudly serve residents and businesses throughout Northern Florida and Southern Georgia, including the communities of Jacksonville, Jacksonville's Beaches, St. Augustine, Ponte Vedra, Orange Park, Fernandina Beach, Amelia Island, Kingsland, St. Marys, Folkston, Woodbine and Brunswick!